Meet the inspirers for Big City Blues '24!
We have invited a professional team of artists that are capable of guiding you in this process. These people are of African American descent or are guests in the culture with a humble attitude, working towards cultural competence.
In alphabetical order:
Bruno Baker (he/him) – France
Bruno is a in turn DJ, dancer, actor & event organizer. Curious by nature, he has explored his relationship with dance since childhood on different musical genres: Funk, Soul, Hip-Hop, Caribbean music, Jazz or House. Overwhelmed by his trip to the heart of the Deep South in 2019, Bruno returned with an intense desire to rediscover and share by any means necessary the history, the strength, the universality of this music that he thought he knew: the Blues.

And for this he uses dance as access to this culture rich in its history, its artists, its legends.
What he likes in his workshops is favoring the autonomy of the dancers so that they can express their personality, their originality, which makes them a unique dancer. He shares resources, elements of context and biography, believing that a curious dancer will become a happy dancer.
Charlley Ward (he/him) – USA
Charlley Ward loves the Blues.  Throughout his life he has played the music, told the stories and danced the dances of the people who created it, his Black American People. His teaching focuses on the fundamentals of the dances and how they can be used to enhance musicality.   
Charlley has twice reached the semi-finals of the International Blues Challenge in Memphis Tennessee with the Bull City Blues Band.  His unique style is derived from his association with Durham Blues great John Dee Holman and his own original eclectic material that ranges from urban Blues like Albert King to Country material like that of Holman's. He has DJed and told stories about Blues and African American culture at Blues Dance all across the USA.  In 2022 he won the solo Blues Dance Competition at the Riverfront Blues Festival in Portland Oregon.
"BB King used to say that playing the Blues is telling the truth."  He says. "It's one of the ways Black Americans survived. We took despair and turned it into joy.  We told our stories, we sang and played our music, and we danced. We told the truth.  We survived."
Els Houttequiet (she/her) – Belgium
Els was first influenced by modern dance before she discovered the world of authentic jazz. Ever since, she has been digging deeper into blues, swing and more traditional African rooted dances, gaining profound knowledge and abilities in those styles.
Els likes to dive into different dance forms and bind them into her own kind of movement, shaping an energetic, raw and playful style. She is actively teaching for Crazy Legs Dance School (Ghent) and has been performing as her alter ego Sweet Elle, and with the Steam Heat Cats.
Felipe Braga (he/him) – Brazil/Germany
Felipe grew up in an environment where music, dance, and rhythms are a part of everyday life. Spending most of his youth in music studios, theatre productions and performing absurd theatre sketches in a local theater in his hometown in Brazil, Felipe only encountered Swing Dancing when he moved to Buenos Aires, Argentina, to study film making.
Feeling drawn to Jazz Music and the beauty of the social dance culture, Felipe's pursuit in the Jazz Dances took him to the biggest dance camps and competitions around the world. There he would learn more about the origins and history of this culture that had captivated him.
In the next few years, Felipe would establish himself as an avid performer and instructor, sharing his passion and love for Jazz history, music and dance.
Genia Tsvietkova (she/her) – Ukraine
Genia's dancing story begun when she was 6 years old. She is a lindy hop and blues dancer from Kyiv, Ukraine. She likes to learn, teach and explore. She really appreciates the process of teaching, working with people, sharing energy and ideas.
During the classes she mostly works on discovering body motion, body control, joy of listening to music and being moved by music.
Jamica Zion (she/her/they/them) – USA
Based in Atlanta, Georgia, Jamica takes pride in being a groovy solo dancer, a dynamic follow, and rising lead. Jamica aims for range, not just in connection and style, but across genres too! They hold multiple titles in Blues and Lindy Hop contests from top US events including Lindy Focus, Camp Jitterbug, Beantown, and Camp Hollywood. As a solo artist, Jamica has prioritized performance over contests so instead of lots of shiny titles, she has a diverse and abundant performance portfolio.
Jamica's approach towards sharing dance with others includes a critical understanding and appreciation of its history and culture, while simultaneously ushering students to build their own styles and meaningful connections to it. Jamica draws on their professional training from working with organizations like the Anti-Defamation League, and a long educational background which includes nearly three degrees in Sociology. This unique blend of experiences, pedagogy, and knowledge allows Jamica to deliver inclusive and culturally responsible classes that are creative, thought provoking, and original!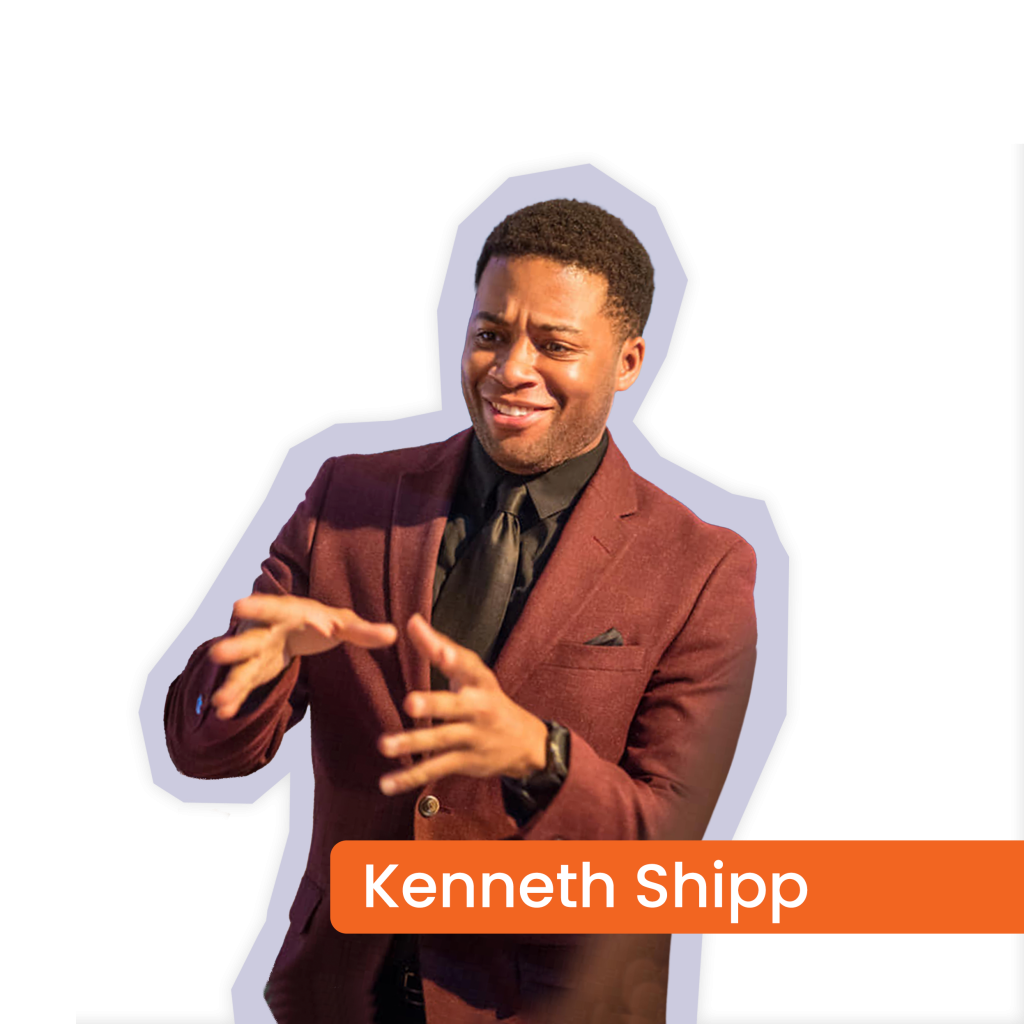 Kenneth Shipp (he/him) – USA
Kenneth Shipp hails from St. Louis, MO as an instructor who grew up dancing hip-hop and DJing breaking comps before jumping into blues. He has spent the past few years passionately studying the family of blues idioms, incorporating his nerdy personality along the way.
Kenneth's life experiences inform his dancing and teaching style so that students walk away with a better historical and contextual understanding. With every class and practice, he'll encourage you to approach social dancing with coolness, relaxation, or in other words "Chill The F$%& Out." When he's not dancing, you can likely find him ranting about the latest blockbuster movie, game, or nerd convention, or desperately trying to dismantle toxic institutions.
Nawelle Saidi (she/her) – France
As far as she can remember, music has always played a central role in Nawelle's life. Raised in the countryside of Lyon, she grew up in an Algerian descendant family where music and dance was always in the center of her community. American black music and dance forms played are her main influences where the Blues has a special place in her heart.
In 2013, she co-created "Shake that swing" association, based in Paris, dedicated to promoting jazz dance heritage, through different types of events. She mostly teaches lindy hop but blues is never far away. Her path and passion for music is so diverse that you can see her jumping on metal music or performing the "pop dip and spin" category on the ballroom scene, with a particular interest for trance states and healing.
Sep Vermeersch (he/him) – Belgium
Meet SEp, your playful dance facilitator, MC, performer and co-organiser of/at Big City Blues. He has always been immersed in the thriving blues scene in Ghent, working with blues legends such as Tiny Legs Tim and the Ghent blues club Missy Sippy.
More then 10 years ago, with Brecht Devloo, Sep started organizing the first legendary blues dance parties in Belgium. And as LouisLou (Now Upside Down) Leni and Sep were co-creators of the epic Boogieville parties. Sep loves holding space to inspire and support dancers in developing a personal expression. As a guest in the culture, he likes to start from the question: 'how can we develop our ways in blues, while trying to respect the powerful black African American Roots of the dance and its culture?'
Ursula Hicks (she/her) – USA
Ursula Hicks began her dance training over 20 years ago in Ballet, Tap, Jazz, and later Modern and Contemporary dance. Ursula graduated with B.A. in Dance Studies from Texas Woman's University in the summer 2013, where she studied with Marry Williford-Shade, Sarah Gamblin, Jordan Fuchs, and Gladys Keeton.
Ursula brings such musicality and enthusiasm to the dance floor, it's no wonder that she has placed in multiple lindy hop competitions including the International Lindy Hop Championships in Washington, D.C., LindyFest in Houston, TX., and a number of other competitions. Ursula has also been on the board of directors for The Fort Worth Swing Dance Syndicate, and served as president of The Dallas Swing Dance Society.
Ursula takes pleasure in collaborating with fellow artists and social dancing in the DFW area and enjoys teaching dance to students of all ages. She is an absolute joy to watch and learn from.