Schedule
We offer week classes (8h) and weekend classes (11h) . You can follow both or you can choose to follow one of the two.
You can also just pick one or two or more solo classes from the schedule and make your own program. Send us your request and we'll see what we can do.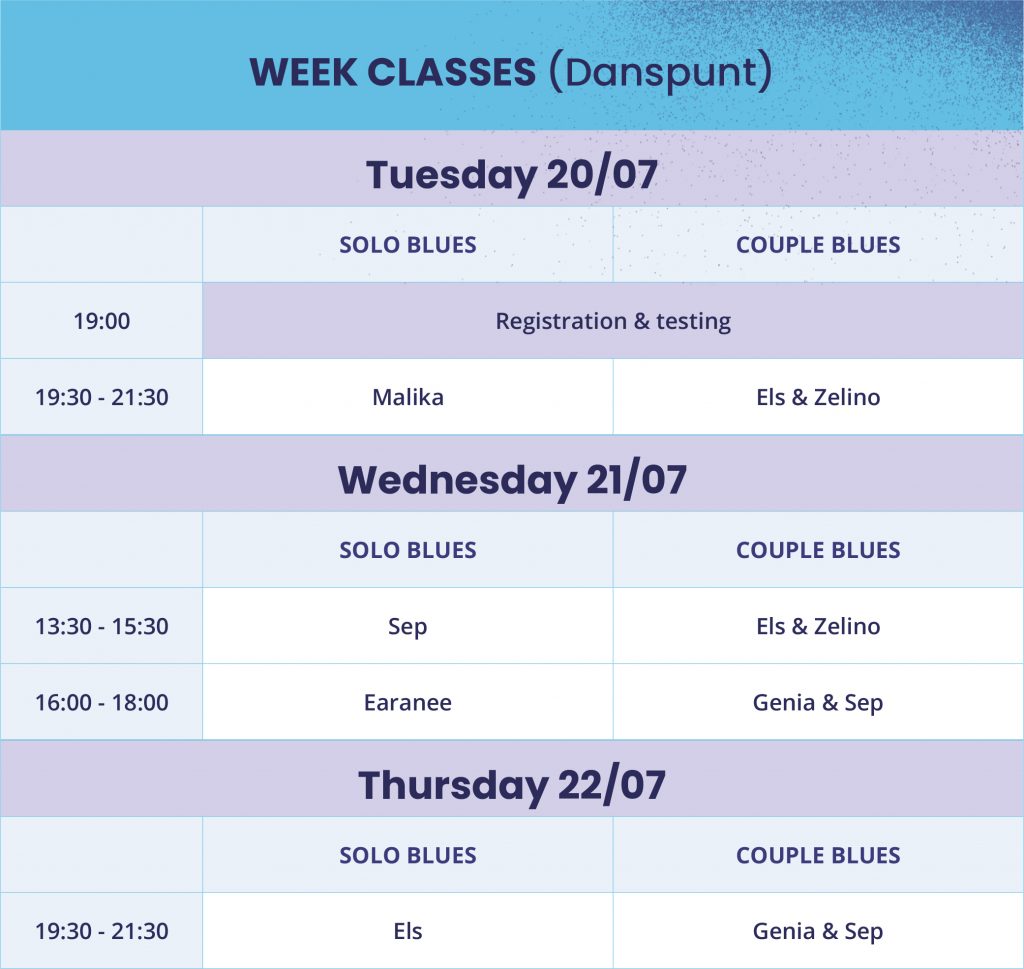 You are curious about solo blues dancing? You want to get out on the dance floor but you feel a little insecure? Or you just want a have nice refresher?
Then this free introduction lesson to solo and couple blues is for you! It's for free, but a registration is needed.
What's it about?
Big City Blues offers couple tracks and a solo track.
In the couple track we'll focus on the earlier and more authentic styles of blues dancing and music. These styles mainly, but not exclusively, originated in two different types of dance venues: the juke joint and the ballroom. We'll work with both ends of the spectrum. The focus will be on rhythm, partner communication, 'blues' philosophy and specific movements. Because your solo movement is an important and basic part of couple dancing, we include an hour of solo dancing in this track.
In our solo track we'll offer a wide variety of blues dancing and music. You'll be guided through blues dancing that's both raw and sensual. We'll make sure you feel relaxed and confident while mastering some smoking groovy blues movement.
You'll have classes with Els (BE), Zelino (BE), Genia (UA), Sep (BE) and Helena (HR).
Level
Attention: We won't have as many groups as we suggest here, unless there are a lot of registrations. The level description is a first indication to make a choice for your registration and for us to have an idea about the level of the dancers. We will split up and define the groups according to the number of registrations and the actual level of dancing experience.
Couple track – Stompers
No prior experience or knowledge required. If you have never danced blues before, this is the place to be!
Couple track – Jukers
You danced some blues before and you're familiar with some first concepts of blues dance. You took a couple of classes in the past and you're eager to put your next steps in the blues dance? We welcome you in the Jukers!
Couple track – Shufflers
You have been dancing blues for some time now? You're accustomed to specific body movement, lead/follow dynamics and rhythmical dancing because of your previous (couple) dance experience? Great! See you in the Shufflers!
Couple track – Draggers
You are a solid blues dancer, you've taken a decent amount of classes, you have been training and you have social danced a lot. Maybe you have even compete or performed. With this track, we like to challenge our more advanced blues dancers. In this classes we'll pay more attention to details and more difficult exercises. If you doubt about this group, feel free to contact us.
Solo Track – Strutters
You are rather new to blues dancing or solo dancing. You are ready to be introduced or have your basics 'rechecked'. We go at an honest, steady pace.
Solo Track – Grinders
You're comfortable with dancing to blues music and you want to learn more? This track aims at the more experienced dancers. We'll make sure that dancers with solo experience will be challenged.