Have a look at who will share their blues spirit with you during the Big City Blues classes. A nice mix of local and international blues talents!
Helena Kanini Kiiru (HR)
Helena Kanini Kiiru is a young dancer and teacher based in Zagreb, Croatia.
After exploring various street styles for almost 8 years, she fell in love with Authentic Jazz Dance – especially the raw style of it's pioneers. Her talent was recognized at JazzRoots 2018 where she won both solo and showcase competitions. She stood out due to her unique style and charisma. Since then, Helena has been teaching Solo Jazz internationally at some of the biggest festivals such as The Snowball, JazzRoots and Herrang Dance Camp, and she gained a lot of experience as an educator.
Big City Blues is happy to bring Helena forward as a relevant voice to explore the qualities of the black blues dances. She owns and understands the intricate qualities that go with that and has developed an interesting pedagogy to present those. Helena will focus on the jazz 'n drag part of blues dancing, as well on how to move from within.
photo credits: YeremiePierreNoir
Genia Tsvietkova (UA) & Sep Vermeersch (BE)
Genia is an explorative dancer from Ukraine. She loves to travel and to explore blues & swing dances on the social dance floor, in class and on stage. She loves to share her energy and emotions with people. At Big City Blues we believe she's a 'a diamond in the rough' to be discovered. Lockdown gave her a lot of time to work on herself, to learn and explore her body and how to be more connected with music. She hopes to be able to exchange and share experiences IRL as soon and as much as possible again.
Sep has discovered dancing as a teenager, from the moment he started exploring nightlife or chasing live music. He quickly realised that he was drawn to the floor when the music had a groove and a soul… the next step to study black African American dances such as the blues was a natural path of discovery and exploration. Sep is a principal character in the Ghent blues scene; organising events, performing, dj-ing and sharing as guest in this culture. Expect to be invited to find 'the best of yourself' in relationship to this rich heritage.
photocredits: Juls Sobrón Hernández
Els Houttequiet (BE) & Zelino Modesto Rocha (BE)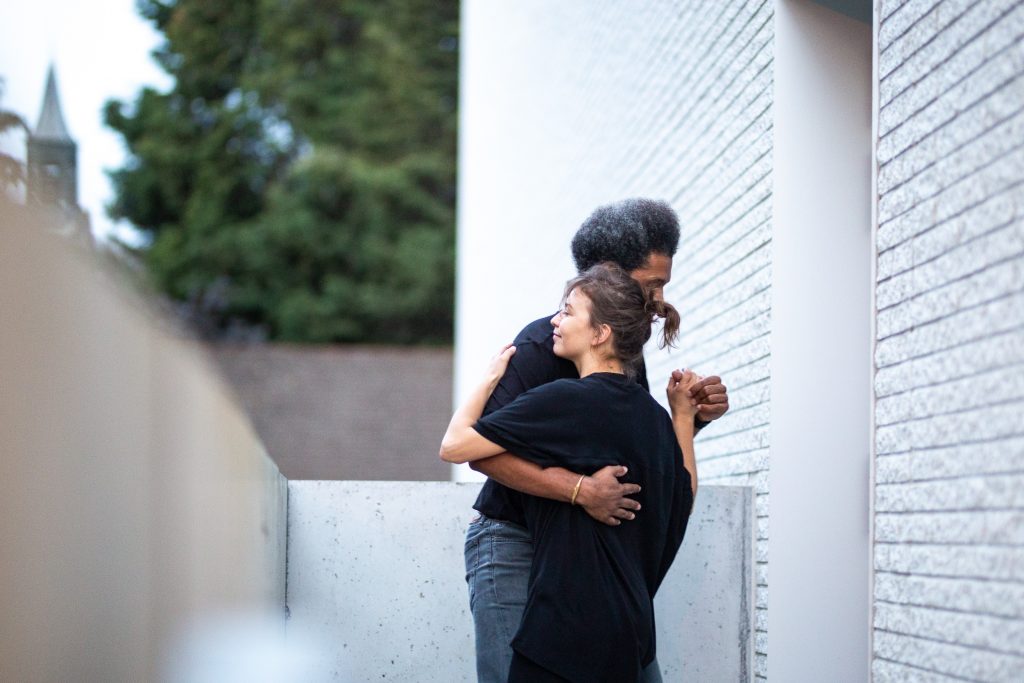 Els and Zelino are blues dancers based in Ghent. They teach dance classes for Crazy Legs and started travelling before Corona arrived. They have a very soulful and deep approach and connect the dance with emotions and its roots. They see the dance as a wonderful way to explore self-expression. Helping students find their own voice in the dance is one of their main focuses.
photo credits: For Dancers Only – Crazy Legs Danceschool
Malika Temoura (BE/FR)
Malika is a french artist based in Brussels since 2014. As an actress and performer, she had the chance, to learn and work in many different dance styles; North African dance, Contemporary, Tango, Lindy, etc, and since a few years she focusses on Blues dancing. Being an intuïtive dancer, she has a very own style, mixing modernity, sensuality and humor.
Big City Blues is happy to welcome Malika not only for her unique dancing approach but also to amplify her voice as an activist and intersectional feminist.
photo credits: sissel steyaert photography
Earanee Niedzwiecki (AU)
A lover of Satchmo and Nat King Cole since childhood, it was the jazzy tunes that drew Earanee to her first Lindy Hop class in her hometown of Adelaide, Australia. She soon began following her love of vernacular jazz dances around the globe, traveling & living in different cities across Australia, Europe and the US. A seasoned instructor, DJ, event MC and podcast host, Earanee now shares her love of jazz and blues from her home in Brussels.