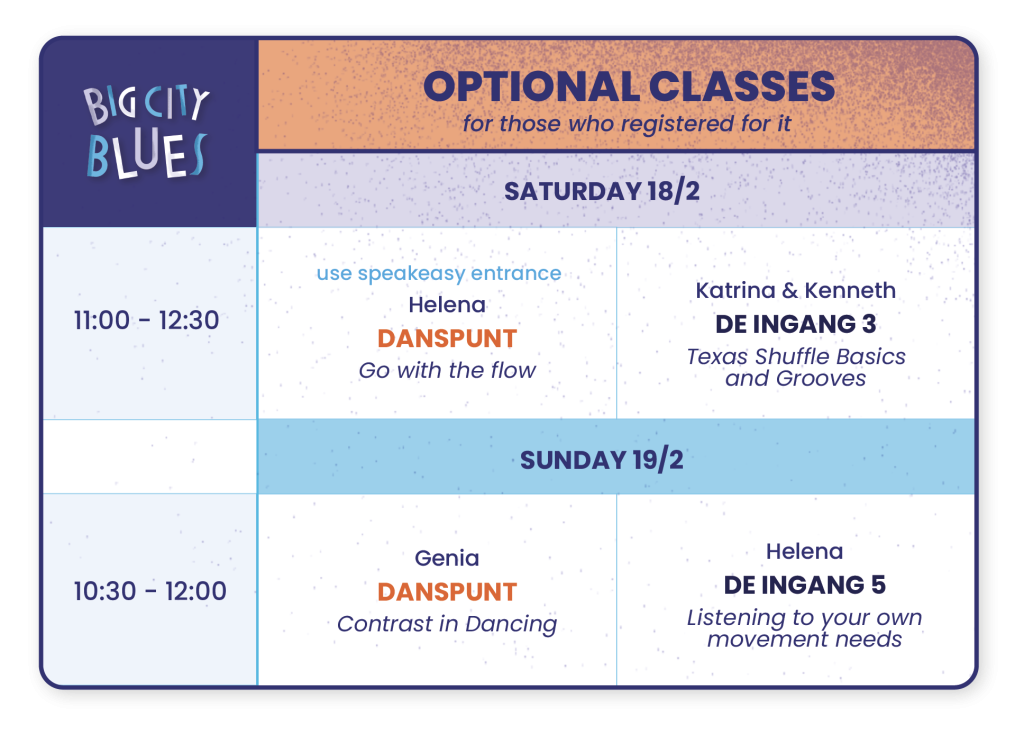 SATURDAY
Katrina & Kenneth – Texas Shuffle Basics and Grooves
De Ingang 3 – partnered class
We'll go over the basics of Texas Shuffle and explore how to do more in the slot movements of the dance
Helena – Go with the flow
In this optional class, Helena will work with a bunch of motivated folks: you. Helena will read the room and offer content related to the needs of the group.
SUNDAY
Helena – Listening to your own movement needs
Accessing the state of flow from acknowledging and moving from personal impulses
Genia – Contrast in dancing
Will play around with ideas about contrast

SATURDAY
Katrina & Kenneth – Connected Autonomy with Chicago Triple
De Ingang Balzaal – partnered class
Using the Chicago Triple basics, we'll explore what it means to maintain individual dance mechanics and choice while in partnership. This will explore the difference in orientations, steps you're holding down, how we use leverage and compression to communicate these choices to our partner. If you haven't done Chicago Triple before, we'll do a recap / primer before tackling the autonomy material.
Alexia – Katherine Dunham inspired blues dancing
We'll draw inspiration from the Barrel Blues video (or rather a more modern rehearsal video from the same piece) to learn new ways to move, how to incorporate those in our dancing, how to change these moves and make them our own, and how to get inspired by a more performative perspective to then bring it to the social context.
Danys – Poppin' & Lockin'
In this class, Popping Danys will introduce the social aspect of Popping, Locking and Whacking, and see how these can connect to the lineage of funky Blues music & dance.
Alex – Slide, Shuffling & Cab Calloway inspiration
Sliding & shuffling foundation for slow blues. We'll also get inspired by Cab Calloway. While he was well known for his music, he was also an exceptional and innovative dancer, inspiring future generations such as Michael Jackson.
Els – Sensual blues dance – while guarding your authentic self
Together with you I want to look for a sensual, daring style of blues dance by practicing isolations coming from the core of our body. We challenge our own insecurities and search for sensual movements that still feel comfortable and make us feel true to our authentic self. Let's slow down our movements and really take our time to extend our dance on the music.
De Ingang 5 – partnered class
We will explore how these dancers communicate together, express emotion through their movement. We'll combine the class material into a choreography
SUNDAY
Katrina & Kenneth – Dips and Momentum in Jookin' and Ballroomin'
De Ingang Balzaal – partnered class
working through a variety of rotations, turns, and weight shares inside of Jookin and Ballroomin blues dances
Lotte – Discover your cool
This class focuses on improvisation and attitude within the aesthetics of blues dancing. You'll start by truly connecting with yourself and the music and discover what in the music moves you and how it moves you. After this we will explore how you can make the movement grow and how to share and express this in connection with others.
Genia –Where groove lives
Will explore the feeling of the groove through the different body parts. Will share ideas how to express yourself using different parts of your body separately or together
Alexia & Sep – Draggin' and Steppin'
De Ingang 4 -partnered class
We'll be workin' on qualities to go from a fun explorative social style to a more performative technical style… and back.
Helena – Spirit & Sound of the Blues
Exploring the connection between Sound, Spirit & Movement