A (post-)pandemic world requires a lot of adaptations on hygienic measures, official rules and our own ethics to go by. We're happy to be able to organise IRL-events again, but these will require non-stop adaptations of the festival set-up, and compliance by our visitors, professional crew and team. Please read this information carefully, so you know how we will organise and what you'll have to agree on in order to participate in Big City Blues.
Obviously the goal of setting the boundaries and conditions for the festival will create opportunities, freedom and a system to not only protect yourself, but also others in society.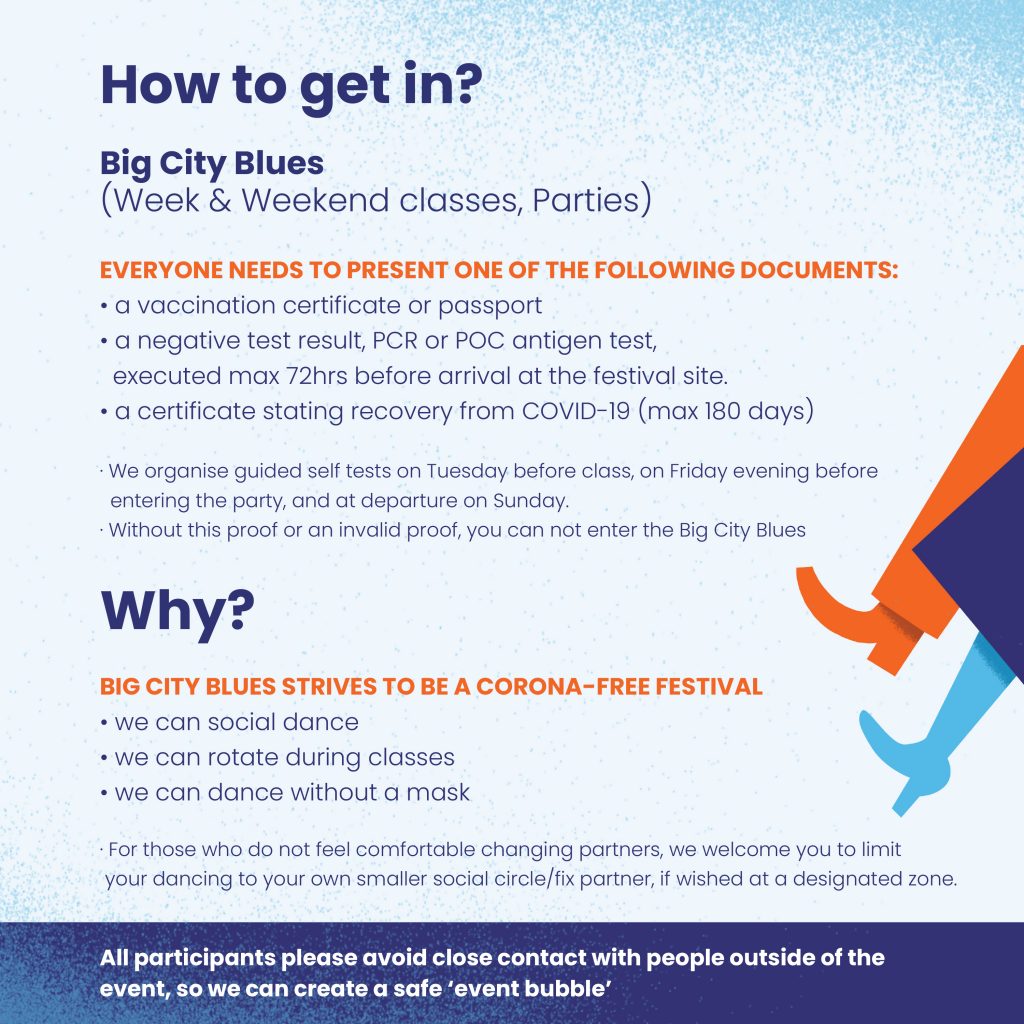 To participate at the event:
Participants are able to present one of following documents:
vaccination certificate or passport (vaccine type and manufacturer, number of doses, date of vaccination): proof of vaccination against COVID-19. Only valid 14 days after fully finished vaccination schedule.
a negative test result, PCR or rapid antigen, with the name of the test, date and time of test, test centre and result (self-tests are not valid) executed max 72hrs before arrival at the festival site.
certificate stating recovery from COVID-19 (max 180 days).
We'll organise two / three extra rapid antigen tests (mandatory for all participants and crew) guided by a certified healthcare worker. One at arrival on Tuesday evening (before the class starts for the week pass) / Friday evening (or before class if you arrive on Saturday) and one before departure from the festival. This extra cost of €12,5 will be paid at registration.
We believe that the majority of dancers are up to date and conscious about the risk of their own and other people's health. We'll ask everyone to sign a commitment statement to avoid unnecessary close contact with people outside of the event, creating an 'event bubble'.
Participants from abroad can find useful information about travel possibilities and restrictions here.
Participants are comprehensive of changes due to Force Majeure or constant changing regulations.
Participants consent to our code of conduct and terms and conditions (registration – practical – Covid)
Dancing at Big City Blues
For now, it seems, social dancing at evening parties and switching partners during classes will be possible. In case of changes in Covid statistics we could additionally organise social circles of contact. Sanitising hands between dances is recommended in any circumstances.
The social dance during the evening parties will happen in a separately provided room. It won't be possible to combine dancing and having a drink. There is an outside bar where you consume your drinks sitting down. You can still enjoy the same music as in the social dance-zone. Water bottles can only be brought into the social dance-room, NOT in the bar!
For those who do not feel comfortable social dancing with others, we allow you to create your own limitations and limit your dancing to a fixed partner/solo or your own smaller social circle, if wished at a designated zone.
Our restrictions are based on the rules of sports camps and sports internships by the Flemish Government, applied from June the 25th.
Disclaimer: the regulations might change by 20.07.2021, which may affect safety requirements of the event. If current measures change, we will follow them. A final update will be available on 19/07/2021.
General rules
We request that you follow the general hygiene measures:

Stay home if you have a sickness or cold!
Wash or sanitise your hands regularly, especially before and after class and in between dances.
Cough or sneeze into the inside of your elbow or into a paper towel. Dispose of the papers immediately in a trash can.
Keep 1,5 m away from other people not being part of Big City Blues.
Wear a mouth mask when moving around in the room (when arriving, going to the dance area, going to the toilet,…)
You can take off your mask while dancing with dancers from your social circle. If you dance with dancers outside your social circle, we ask you to wear a mask.
Bring your own water bottle.
Avoid touching surfaces unnecessarily (door handles, table, chair,…).
Always follow the instructions of the organization.
Inform us if you test COVID positive and have participated in one of our activities in the 7 days before!

We'll do our best to provide as much safety and peace of mind to everyone involved. Last but not least, we'll make sure that you will be reminded of the spontaneous thrill and joy of dancing to live music.
Covid cancelation policy
We understand that legal situations and covid-measures might change at any given moment.

If a participant is not allowed to travel due to government restrictions, we will offer a refund or pass transfer according to our refund policy.
In case we have to cancel the event ourselves due to force majeure we will refund passes or pass transfer. We will not be able to refund any other costs such as housing, transport and other expenses related to your planned visit to Big City Blues.